South County has become a hotbed of craft beer in Rhode Island.
Six breweries have opened here in less than a decade, with more on the horizon. And while the story goes beyond the oldest, newest and coolest breweries here, it's important to note their staying power. Grey Sail Brewing of Rhode Island in Westerly was the first brewery in South County, founded in 2011, while Sons of Liberty Spirits Co. in Peace Dale, Whalers Brewing Co. in Wakefield and Tilted Barn Brewery in Exeter were right on its heels. Proclamation Ale started in West Kingston before moving to Warwick, and when it moved out, Shaidzon Beer Company. moved in. A new brewery and taproom, Beer on Earth in North Kingstown, plans to open this month, and in East Greenwich, LineSider Brewing Co. is in the works.
As a destination on the Rhode Island Brew Bus, South County is attracting attention on a nationwide scale, thanks in part to the number of large, empty former mill buildings, says George McAuliffe, business manager of the Mews Tavern in Wakefield. "Mill space was available," he says. "Sons of Liberty, Whalers and Grey Sail are all in old mills. Available space, very cheap."
Shaidzon co-owner and marketer Chip Samson believes the growth of the local brewing scene also has something to do with South County's culture. Craft breweries "offer a differentiation from the larger breweries that people are familiar with," he says. "I think people who come to South County are looking for something off the beaten path. Part of the local-driven movement could relate to the farmers markets and farms in South County. People are enthusiastic when they know where something comes from, they know who made it, who owns it."
The appetite for local brews is evident at the taps. Among the 69 beers on tap at the Mews Tavern are offerings from Whalers, Grey Sail and Shaidzon. "Whalers is our most popular above them all, by far," McAuliffe says. "They've done a great job marketing it, getting presence in the state, building a clientele. It's a good product, they've won international awards. They've gone down the right path and built a strong following."
The scene extends beyond beer, as well. Mews also carries Sons of Liberty's award-winning spirits. The sale of beer is a newer development for the distillery, which began in 2011.
Spirits are conceived as a beer brewed especially for distilling, says Sons of Liberty marketer Bryan Ricard. Similar to the principle of using drinking wine for cooking, Sons of Liberty's staff used beer they liked to drink as a distilling beer, he says. "We started bottling the distilling beers and letting people taste them side-by-side with the whiskey as a way to tell the story," he says. "Problem was, people started loving the beer."
Now, Sons of Liberty continues to market its spirits while shipping its barrel-aged beers to liquor stores across Rhode Island. But the beer remains a way to tell the story of the spirits, Richard says.
The growth of craft beer has led to some downsides. McAuliffe says the exploding number of craft breweries across the nation means "there's too much product now," he says. "There aren't enough distribution points to handle all the product that's out there." He also notes that larger companies have started purchasing craft brands to preserve their market share, citing specifically the 2015 acquisition of San Diego, California-based Ballast Point by the company behind brands like Modelo and Corona.
Despite industry pressures, local brewers say collaboration, not competition, characterizes the Rhode Island craft beer scene. "The alcohol industry is super generous, very friendly," Ricard says. "We're all in it together. It's great because everyone in Rhode Island and New England has more places to go." He adds, however: "You can't get lackadaisical, because you're not the only one in town."
"I would say our relationships with other brewers are good," Samson says. Both he and Shaidzon co-owner and brewer Josh Letourneau started in the business at Grey Sail and continue to maintain a solid working relationship with that brewery. "I see a camaraderie of encouragement, and the competition is more against bigger beer, to turn people toward Rhode Island and South County beer," he adds.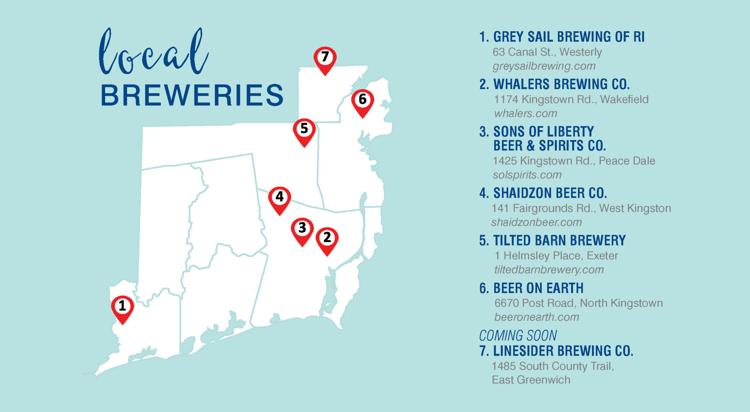 Jennifer Brinton, founder and owner of Grey Sail, says the growth of South County's beer scene is a positive for brewers and consumers alike. "The breweries are a destination for people," she says. "People are more likely to come into an area and visit multiple breweries than to travel to see one. The word 'competition' has a really negative connotation. We coordinate. There's a lot of collaboration. There's certainly competition at the taps, but the general thought in Rhode Island is, there's plenty of space at the taps for all Rhode Island beers. Our competition is beer coming in from out of state."
In fact, Grey Sail helped Samson and Letourneau get Shaidzon up and running with some equipment and licensing. Brinton also continues to work closely with the brewers at Newport Craft Brewing and Distilling Co., formerly Newport Storm.
Some are betting on the continued growth of local brewing. Occupying space behind Great Harvest bakery on Post Road in North Kingstown, Beer on Earth was started by Great Harvest owner Paul DiBiase and partner Adam Henderson. They brewed up a small batch for the North Kingstown Chamber of Commerce's "Taste of NK" event in May, and the whole stock sold out. Now, they await the perfection of the brews in their three-barrel system. "I feel like there's still a lot of room for growth," DiBiase says of the South County scene. "The brewing community in Rhode Island is like a brotherhood. We're all in it together."
Henderson agrees. "The more breweries are around, you can do the whole brewery-hopping experience."
DiBiase and Henderson hope to open the taproom in mid-to-late June with four offerings: an IPA, a cold-brew coffee porter, a blond ale and a saison. From there, classic styles will serve as a base for fresh takes on old varieties.
Beer on Earth also signifies the shift in the way consumers view breweries and distilleries. Increasingly, they are becoming destinations. "A lot of people think most breweries you just go to pick up the product and leave," Richard says. "But we have pretty cool tasting rooms, food trucks come in. It's becoming a great place to hang out. Also, the people serving you are super knowledgeable about the product, so it's a great educational experience."